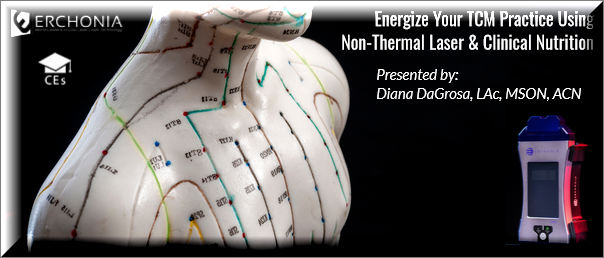 Energize Your TCM Practice Using Non-Thermal Laser & Clinical Nutrition

Getting Your Patients Further Faster!
Presented by:  Diana DaGrosa, MSOM, LAC

April 18th, 2020 – Online
~6 PDA Points Applied NCCAOM~

Offering CE Hours for DC, OT, PT, ND & LAC*
About The Seminar
With an extensive background of more than 30 years as a health care practitioner with 15 in Traditional Chinese Medicine, Diana L. DaGrosa, L.Ac., brings the newest form of energy movement to TCM.  Diana will introduce and explore how adding low-level laser therapy & functional nutrition to TCM & functional medicine will improve outcomes and help address difficult conditions.  The addition of low-level laser therapy to your practice enhances The Great Work You Already Do!  Diana introduced this proven technology several years ago which has significantly enhanced her outcomes and increased her patient referrals.  Diana will share her success stories through case studies & protocols.  Following Diana's presentation, we will have a BONUS HOUR featuring practice management & best practices for implementing low-level laser therapy in your practice.  This is not an event you want to miss!
Don't miss this exciting opportunity to take your practice to a new level!

About Diana DaGrosa, MSOM, LAC

Diana L. DaGrosa is a NCCAOM Board Certified Acupuncturist with a four-year Master's degree in Chinese Medicine & Acupuncture from the Phoenix Institute of Herbal Medicine & Acupuncture.  She has completed the full course work with the Institute for Functional Medicine.  Her Bachelor of Science in Health & Fitness is from Springfield College.  Diana's studies are complemented by five years of living in Japan, which she credits for her perspective on balanced eating.  Diana has attended more than 2,000 hours in Advanced Clinical Nutrition, Functional Endocrinology, Advanced Blood Chemistry & Specialty Acupuncture seminars.  She specializes in Natural Digestive Health and Emotional Support.

Seminar Details:

When:
April 18th, 2020

Times:
Registration at 9:30am
Saturday 10:00-4:00pm

Where:
Your Home or Office



CE Hours:
6 Online CEs Applied by ChiroCredit.com*

INSTRUCTIONS TO PURCHASE AN EVENT
1. Go to www.ChiroCredit.com
2. If already have an account, login. If not, select register in the left blue navigation bar.
2. Once logged in, click on the Teleseminar link in the left blue navigation bar
3. Select the Webinars you want to purchase and submit them to your shopping cart
4. Check out
NOTE:  There is a link in the listing for an instruction sheet for taking the event. Please print a copy as it is a step by step pictorial with important instructions.
*CE state approvals based on online state CE requirements.  Click here to reference if your licensing state recognizes online CEs and how many.

Seminar Topics:
Intro to Low-Level Laser Therapy

Its History and How It Works

Creating the Foundation for Healing with Functional Nutrition

Case Studies, Protocols, Pearls and Successes

Using Standard and Specialty Lab Testing for Complex Cases

Low-Level Laser Therapy Techniques to Balance Emotions

How To Use Lasers Demonstration and Q&A

Basic Laser Treatment Protocol, FDA Cleared Treatments, and more

Working Smarter-Not Harder!!

BONUS CONTENT – Practice Management and Best Practices for Implementing Low-Level Laser Therapy in Your Practice with E. J. Pospisil.
To view the complete syllabus, click here.
THIS IS ENERGY MEDICINE! = "LIGHT THERAPY"
"In every culture and in every medical tradition before ours, healing was accomplished by moving energy."
– Albert Szent-Györgyi (1967)