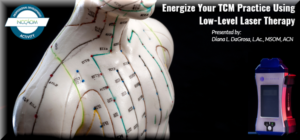 Energize Your Traditional Chinese Medicine Practice Using
Low-Level Laser Therapy

Getting Your Patients Further Faster!
Presented by:  Diana DaGrosa, MSOM, LAC
December 12th, 2019 – Denver, CO

~2 PDA Points Approved NCCAOM~
About the Seminar
With an extensive background of more than 30 years as a health care practitioner with 15 in Traditional Chinese Medicine, Diana L. DaGrosa, L.Ac., brings the newest form of energy movement to TCM.  Diana will introduce and explore how adding low-level laser therapy to TCM will improve outcomes and help address difficult conditions.  The addition of low-level laser therapy to your practice enhances The Great Work You Already Do!  Diana introduced this proven technology several years ago which has significantly enhanced her outcomes and increased her patient referrals.  Diana will share her success stories through case studies & protocols.
About Diana DaGrosa, MSOM, LAC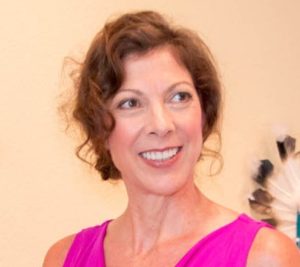 Diana L. DaGrosa is a NCCAOM Board Certified Acupuncturist with a four-year Master's degree in Chinese Medicine & Acupuncture from the Phoenix Institute of Herbal Medicine & Acupuncture.  She has completed the full course work with the Institute for Functional Medicine.  Her Bachelor of Science in Health & Fitness is from Springfield College.  Diana's studies are complemented by five years of living in Japan, which she credits for her perspective on balanced eating.  Diana has attended more than 2,000 hours in Advanced Clinical Nutrition, Functional Endocrinology, Advanced Blood Chemistry & Specialty Acupuncture seminars.  She specializes in Natural Digestive Health and Emotional Support.
THIS IS ENERGY MEDICINE! = "LIGHT THERAPY"
"In every culture and in every medical tradition before ours, healing was accomplished by moving energy."
– Albert Szent-Györgyi (1967)
Seminar Topics:
·         Introduction To Low-Level Laser Therapy
·         How Low-Level Lasers Work
·         Adding Laser Energy for Effectively Addressing Difficult Presentations
·         Case Studies, Protocols, Pearls & Successes
·         Getting Patients Further Faster
·         Working Smarter – Not Harder!!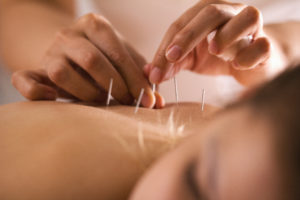 Seminar Details:


When:
December 12th, 2019

Registration at 5:30pm
Thursday 6:00-8:00pm

Where:
Renaissance Denver Stapleton Hotel
3801 Quebec St.
Denver, CO  80207
Phone:  (303) 399-7500

Seminar approved by NCCAOM for 2 PDA under PE-CW Acupuncture credit, approval # PDA-78-231.

Seminar Cost:  $FREE

Stay in Denver through Sunday for Dr. Trevor Berry, DC, DACNB's seminar and receive $75 off registration.

Click here for the Denver Brochure.
*This seminar qualifies for Erchonia customers for their FREE ERCHONIA SEMINAR with laser purchase.
Every attempt is made to offer these seminars as publicized, however Erchonia Seminars reserves the right to adjust seminar locations, dates, time, speakers, content, etc., due to circumstances beyond control. No audio or video or tape recorders are allowed, and no portion of the seminar may be reproduced in any manner without expressed consent. Preregistration is required. Erchonia Seminars cannot be held responsible for any expenses incurred by registrants if a program must be altered or canceled. Seminar fee is non-refundable. If unable to attend, seminar fee will be transferred to another seminar. ©2014-2019 Erchonia Corporation. All rights reserved.