Revolutionize your practice today!
Join our FREE* Seminar!
When: July 13th, 2019
Saturday, 8:00-5:30pm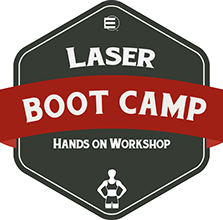 The Laser Boot Camp is your Opportunity to Jump-Start your Practice by Learning How to Implement Emerging Technologies in Aesthetics and the Latest Non-Invasive Approach to Treat Chronic Pain.
The wisdom of chiropractic is integrated with the use of low level laser therapy in application with conditions associated with chronic pain. This class is for the practitioner who desires to maintain the traditional application of chiropractic and to enhance the benefits achieved by applying one of the newest, most researched technological advances in the healing arts. Specific protocols and techniques for common conditions such as neck, shoulder and heel pain will be taught using laser therapy and soft tissue correction and of course the chiropractic adjustment. In addition, we'll include in our presentation a demonstration of the Zerona®-Z6 non-invasive fat loss laser.
Topics Include:
Statistics involving chronic pain conditions
Posture and mechano-biology
Understanding how low level laser works
Current research validating low level laser therapy
Low level laser therapy applications in chiropractic
Attended and unattended applications
FDA Cleared Non-Invasive Laser Treatment for, Fat Lipolysis,
Hands-on Demo

About the Speaker:
Dr Kirk Gair has been in private practice since 1999 and began using Erchonia low-level lasers in 2004. During that time, he has worked with athletes of all levels, including Super Bowl Champions, MLB and national and state champions. Due to his laser protocols, he has patients come from all over the U.S. for help. Even though his is a 100% referral practice, he has a long waiting list due to his success.
Dr. Gair has also completed additional training in functional medicine and functional neurology under the guidance of internationally acclaimed Dr. Datis Kharrazian. He appeared in Dr. Izabella Wentz's documentary, The Thyroid Secret. Dr. Gair has also written articles for the Hypothyroid Mom website, which has over 1 million followers and has been featured on podcasts by Thyroid Nation, Rebel Health Tribe, and The Thyroid Pharmacist, Dr. Izabella Wentz.
Schedule
9:00am-9:45am – Intro to Low Back Pain & Low Back Pain (Anatomy of Specific Diagnosis)
9:45am-10:15am – Low Back Pain Treatment Laser Demonstration (Evaluation workshop)
10:15am-11:00am – How to turn on laser and basic program function
11:00am-11:10am – Break
11:10am-11:45am – Laser Workshop
11:45am-12:35pm – Intro to Chronic Heel Pain / Plantar Fasciitis & Chronic Heel/Foot Pain (Anatomy Of Specific Diagnosis)
12:35pm-1:05pm – Work Shop Chronic Heel/Foot Pain Treatment Laser Demonstration (Evaluation workshop)
1:05pm-2:05pm – Lunch
2:05pm-2:40pm – Chronic Neck and Shoulder Pain & Work Shop – Chronic Neck and Shoulder Pain
2:40pm-3:25pm – Basic Violet Laser Applications & Workshop
3:25pm-4:00pm – FDA Cleared Non-Invasive Laser Treatment for, Fat Lipolysis, Hands-on Demo
4:00pm-4:10pm – Final Questions and Answers
Contact info
To sign up for this FREE Seminar: call (1) 888.242.0571.
Seminar Cost $FREE*
*Credit card required to hold spot. If attendee no shows for seminar, $50.00 will be charged to card on file.