Amber Pohl Wins Contest, a Trip to Miami and $5,000 cash
Erchonia
, the global leader in low level laser healthcare applications, today announces a winner for its "Zerona Model Search" contest: 26-year-old Amber Pohl of Albuquerque, New Mexico.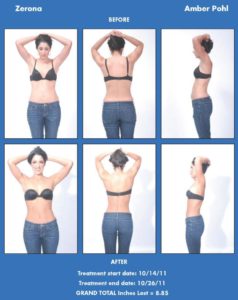 Amber will be featured in Erchonia's 2012 marketing campaign for the FDA-approved 
Zerona
 non-invasive, body contouring laser, will receive a cash prize of $5,000, and will also receive a four-night vacation for two to Miami, Florida. She will be photographed in a professional photo shoot and will be featured in Erchonia's marketing campaign for one year.
Dr. Janice Moranz
 performed Amber's non-invasive, painless Zerona treatments at her practice in Albuquerque. Amber lost a total of 8.85 inches of fat after six Zerona treatments, one forty-minute treatment every other day for two weeks.
"Because I could see the results of my Zerona treatment within the first week, it really motivated me to commit to a better diet and more exercise,"
says Amber. "Zerona was the jump-start I needed to get back into shape. I'm so excited I've won the chance to share my experience with other people who might need the encouragement. And I can't wait to take my sister with me on my trip to Miami to celebrate!"
Using low level laser light, the Zerona laser creates a pore in fat cells and stimulates fat to leak out of the cell. The cell deflates, but is not destroyed, and the fat is naturally processed by the lymphatic system as waste. After six treatments, one every other day for two weeks, patients lose an average of 3.65 inches from their waists, hips and thighs without pain, side effects or downtime. Zerona was approved by the FDA for non-invasive circumferential reduction based on a recent double-blind, placebo-controlled, multi-site clinical trial.
Erchonia is the global leader in low level laser healthcare applications. Over the last 15 years Erchonia has been conducting research and development with the world's leading physicians to advance the science of low level lasers. Prior to market introduction, all Erchonia lasers are proven safe and effective through independent clinical trials. Currently thousands of Erchonia's lasers are used daily to reduce body fat, eliminate pain, accelerate healing, and treat acne. For additional information, visit 
www.erchonia.com
.
---