For Information Contact:
Charlie Shanks
VP Sales & Marketing
888.242.0571
cshanks@erchonia.com
FOR IMMEDIATE RELEASE:
According to the National Institute of Arthritis and Musculoskeletal and Skin Disease (NIAMS) nearly 17 million people in the United States have acne, making it the most common skin disease. Teenagers and adults alike now have a weapon to battle this disease through new laser technology, DermaLASER™, approved by the U.S. Food and Drug Administration (FDA).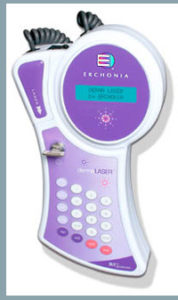 The DermaLASER™ created by Arizona-based Erchonia is a low-level, or cold, laser that works by killing the bacteria P. Acnes that causes acne. Unlike current acne-laser treatments, the DermaLASER™ is not high density, or hot, so it does not irritate or adversely affect the healthy skin cells. The DermaLASER™ isolates and targets the acne-causing bacteria itself, not the skin, so it effectively treats the cause of acne at its root.
"There is no single disease linked to as much psychosocial trauma as acne," according to Charlie Shanks, Vice President of Erchonia. "It is our hope that the DermaLASER™, because of its fast and proven results, will change the lives of literally millions of these people battling the social impacts of acne. I think acne has finally met its match."
Up until now, people with acne have had to rely on strong antibiotic treatments lasting several months, harsh topical ointments that can irritate and severely dry out the skin or hot lasers that cause redness and pain. 30 years of research shows that side-effects from low-level laser treatments of all kinds are minimal to non-existent and the DermaLASER™ is no exception.
Erchonia, the company that created DermaLASER™, is the leader in low-level laser technology. DermaLASER™ is the latest in a series of low-level laser treatments that are used for everything from pain relief to aiding in liposuction surgery. To learn more about Erchonia and their products, go to www.erchonia.com.
---