Erchonia Receives 7th FDA Market Clearance for Non Invasive Fat Loss New once a week protocol allows for more treatment flexibility
Erchonia announces today that they have received their 7th 510(k) market clearance and the 2nd in 2015 from the US FDA for non-invasive fat loss which is measured by circumference reduction. Erchonia has also been published 20 times in journals and text books with our patented laser processes.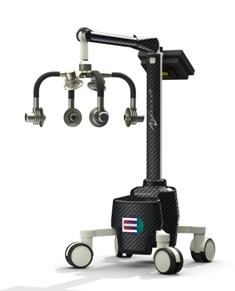 Erchonia 
has been researching fat loss since 1998 and has performed several level 1 blinded and controlled clinical trials on 
circumference reduction
. "We have more 510(k) market clearances on non-invasive fat loss than all other companies combined" stated Steven Shanks President of Erchonia Corp.
The new study was performed on 54 subjects who participated in a once a week treatment for (6) weeks; the results showed that patients continued to see a reduction 2 weeks post treatment which is believed to be due to the process of fat metabolism. What this study demonstrated was that patients with a 25 to 40 BMI should expect to lose 6 inches from their waist, hips, thighs, and upper abdomen.
"I would implore consumers seeking such treatments to compare this to other body contouring device's that have FDA market clearance, such as those that freeze fat which can only claim according to their 510(k) statements to effect appearance of fat  in 2 to 4 months".
"After considering all the data potential patients should contemplate if they would like to lose 6 inches of fat in 6 weeks with no known side effects with the 
New
Zerona Z6 
laser protocol or be able to affect the appearance of fat in 2 to 4 months with a risk of pain, and side effects associated with other devices" says Charlie Shanks, Vice President of Marketing.
We would like to thank Carl Thornfeldt M.D and Paul Thaxton M.D for their dedication to research and helping Erchonia with its latest achievement.
The FDA has previously cleared Erchonia's low level lasers for non-invasive reduction of cellulite; the non-invasive circumference reduction of the arms; for liposuction and breast augmentation assistance and the reduction of associated pain; the reduction of chronic neck and shoulder pain; and for the treatment of acne.
For more information, please visit www.erchonia.com.
About Erchonia
Erchonia is the global leader in low level laser healthcare applications. Over the last 15 years Erchonia has been conducting research and development with the world's leading physicians to advance the science of low level lasers. Prior to market introduction, all Erchonia lasers are proven safe and effective through independent clinical trials. Currently thousands of Erchonia's lasers are used daily to reduce body fat and cellulite, eliminate pain, and treat acne. For additional information, visit www.erchonia.com.
---