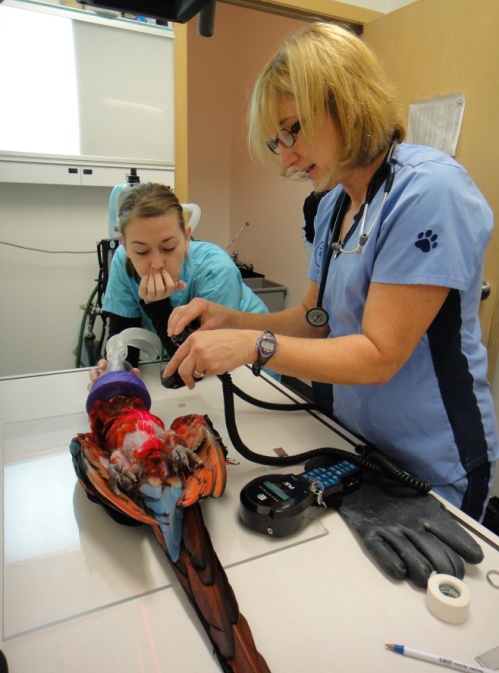 Janet Gordon Palm, DVM, CVCP
1044 Wingate Drive  Fruita, CO  81521
PH:  (763) 229-6425
Email:  curbhopdoc@comcast.net
Check Out Dr. Gordon-Palm's Schedule Here!
Dr. Janet Gordon Palm is a practicing integrative medicine veterinarian who is continually reinventing herself as she learns of new non-invasive modalities to forward healing. Graduating from Kansas State University in 1981, Dr. Janet practiced medicine and surgery in small animal, avian and exotics, initially in California, then Minnesota, before relocating to the veritable playground known as the Western Slope of Colorado. Originally trained in conventional medicine, she naturally evolved to include complementary modalities such as neuronal adjustment, osteopathy, cranial sacral, acupressure, myofascial release, and LLLT.
She is actively involved in Natural Horsemanship and includes the concepts of recognizing and managing emotional states in horses through universal body language to all species. In 2010, she started her ambulatory practice "Animobility Integrative Veterinary Services".
An avid horseback rider, mountain biker, and hiker, she resides with her fellow adventure-loving dirt-bike riding husband Ron, in Fruita CO with two cats "Tesla" and "Puma", as well as her Arabian gelding " To'hi ".
Education:
My personal goal is to provide an outstanding quality of life to people and animals, and that people express their passion in living life outrageously. Professionally, I seek to accomplish my personal goal using the tools I have accumulated through my educational studies, practice, and life experiences.
Kansas State University 1981; Manhattan, Kansas, U.S.A. Veterinary Medicine
B.S. DVM; Deans list 1975-81
Phi Zeta Veterinary Honor Society 1978-1981; Equine Embryo Transfer Group; also worked in Endocrinology lab with beagle colony and Rhesus monkeys.
Washburn University 1975; Topeka, Kansas, USA. Pre veterinary curriculum courses
Landmark Education 1991-2016; Minneapolis, Minnesota, U.S.A. Participated in the "Curriculum for Living" courses, specifically the Forum, Forum in Action, Advanced Forum, Self Expression Leadership Program; Communication I and II.
Topeka High School 1974; Topeka, Kansas, USA.
Experience:
Animobility Integrative Veterinary Services, Certified Veterinary Chiropractitioner; Sole Proprietor– 2010-current; Fruita, Colorado; Ambulatory business that I started in order to incorporate the new integrative modalities of Veterinary Orthopedic Manipulation, Osteopathy, Acupressure, Animal Personality Assessments/Behavior Counseling,  and Frequency Specific Low Level Laser (Cold Laser) Therapy in small animal , exotic, and equine patients.
Animal Medical Clinic; Redstone Veterinary Hospital– 2017-current; Grand Junction, CO; Part Time relief Veterinarian
New Hope Animal Hospital – 1987-2016; New Hope, Minnesota Progressive small animal and exotic practice owned by Randall Herman, D.V.M. Computerized and paperless practice includes Idexx in house and send out capabilities, ultrasound, digital radiology, digital dental radiology and ultrasonic scaler, Ellman electrosurgical unit, and Endoscopy. I encouraged owner to invest in new modalities of Veterinary Orthopedic Manipulation and Cold Laser therapy. (Erchonia Base Station - Frequency Specific Low Level Laser) I was in charge of integrating these technologies into the practice.
I Became senior veterinarian performing diagnostics, treatments, surgery, training of support staff, client education, as well as comedic relief in the form of original songs/skits at staff functions. I inspired the clinic to stop declawing cats in 2015 and the clinic enjoyed a large influx of clients as a result of this compassionate stand.
Relief Veterinarian in Minnesota - January 1987 to May 1988; Became permanent part time relief for Cedar Pet Clinic owned by Dr. John Baillie; duties included medicine and surgery of small animal and exotic patients. I managed a satellite clinic Falcon Heights Animal Hospital as a sole interim veterinarian for Dr. Clarence Fitz from Jan 1988-May 1988.
Canterbury Downs Race Track; Shakopee, Minnesota - June 1987-1989. Worked as regular part time relief track veterinarian at the test barn. Duties included assessing the 1st, second and 3rd place winners for lameness, overseeing the urine sampling and obtaining blood samples.
The Raptor Center University of Minnesota –September 1986 to December 1987
; St. Paul, Minnesota; Volunteer Veterinarian. Volunteer position while waiting to take state boards. Duties included care, handling, bandaging and surgical assistance of birds of prey.
Relief Veterinarian in Georgia September 1983 to September 1986 self – Athens; Marietta, Georgia Became permanent part time relief for Sprayberry Animal Hospital in Marietta, Georgia, owned by Scott Richter, D.V.M. Duties included medicine and surgery. Recurrent first choice relief for Companion Animal Hospital, owned by George Malnati, DVM; ACVS; ABVP. Duties included medicine and surgery.
Rancho Sequoia Veterinary Hospital – Simi Valley, California; June 1981 to September 1983; Associate Veterinarian. High volume progressive small animal practice owned by Doug Aberle, D.V.M. Duties included medicine, surgery, after hours emergency calls every other night and every other weekend.
Became primary surgeon in practice performing numerous perineal urethrostomies, perineal hernia, skin grafting, and a PDA surgery. Also performed a successful compound comminuted tibiotarsal fracture repair in a clients pet chicken that was stepped on by a horse, improvising anesthesia equipment.
Dr. Gerald Gardner Equine Services – Thousand Oaks, California; June 1981 to September 1983; veterinarian Assisted Dr. Gardner in handling and routine ambulatory equine services on my day off each week.
Western Hills Veterinary Hospital – Topeka, Kansas; May 1974 to August 1980
; As a Prevet student, I volunteered and eventually was able to be paid 1.00/hour to assist in veterinary duties ranging from kennel assistance, receptionist activities, to technician responsibilities ( fecal flotation, restraint, blood draws ). Between junior and senior year of Vet school, was able to perform spay and neuter surgeries to clients at a reduced rate, under supervision by Larry Fischer, DVM.
Publications/Presentations :
Presentations:
AHVMA 2020, 2019, 2017; 2016, 2014
SOPMED (Society of Oxidative and Photonic Medicine) 2016
AAV/ ExoticsCon:  2018, 2017, 2016, 2015, 2014, 2013, 2012, 2011
WWVC 2013, 2015; 2-4 lectures on LLLT
NAVC 2013, sponsored Dinner meeting
NEVMA 2013 4 hour workshop on LLLT
RACE Seminars on LLLT 6 hours, 2012-2017; Denver, Phoenix, Minneapolis, Los Angeles, Seattle, Boston, Atlanta,
Ft Lauderdale, Tampa,
Parelli Horsenality Workshop; Ocala Fla; 2014
Parelli Holistic Horse Festival, 2016
Parelli Natural Horseamnship Summit 2015, 2016, 2017, 2018, Animal Personality Assessment
BackCountry Horseman, Fruita, CO 2017; Grand Junction Dressage Club, 2017
Animal Care Fair, Grand Junction, CO, 2016, 2017, 2018
Children's Nature Center, Grand Junction, CO; Boo at the Zoo; EdZooCation, 2017, 2018
Publications:
Proceedings: AAV 2011-2017; MVMA 1999; WWVC 2013, 2015; AHVMA 2014, 2016, 2017
Veterinary Practice News: "Less is More" Dec 2012
Integrative Care Journal: "Integrative Approach to Neurologic and Other Disease Conditions" Spring 2018
Affiliations/Memberships:
CVCP: Certified Veterinary Chiropractitioner
Director of The Paw Project, Western Slope Colorado currently (Minnesota 2013 - 2016) I was able to influence the AHAA practice I had been working at (NHAH) to stop declawing and client acceptance was dramatic with more clients transferring to us as a result.
AVMA; AAHA; AAV (state liaison); AAEP; AHVMA; Parelli Natural Horsemanship; Level 3, Gold Savvy Club Member
Licensed to Practice in Colorado; Utah; California; Minnesota; and Kansas
Interests:
Outdoor activities such as horseback riding, Natural Horsemanship; as well as mountain biking; rollerblading; running; rock climbing and hiking with my husband Ron
Fitness activities such as aerobics, dancing, core work. I developed my own aerobic workout I call  "Curbhop-Dancing", a mix of dance, step aerobics and running.
Art, drawing, painting, cartooning; I have illustrated logos, medical articles, as well as a book on Equine Colic.
Music, self taught guitar, harmonica.
Check Out Dr. Gordon-Palm's Schedule Here!