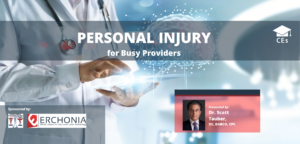 PERSONAL INJURY

For Busy Providers
Presented by:  Scott Tauber, DC, DABCO, CPC
March 20th, 2021 – ONLINE
~6 Online CEs Applied~
Offering CE Hours for DC, OT, PT, ND & LAC*

About The Seminar
The course will focus on the basics of Personal Injury documentation, treatment and case management procedures, practices and principles.  For physicians who've considered adding PI as a specialty or for those looking to learn crucial skills from a med-legal expert with over 20 years of experience, you will be enlightened as the PI opportunities for improved clinical decision making and case management relate directly to your clinic.  Dr. Tauber's instructional emphasis will be placed on applicable and implementable concepts and materials. Providers will increase their awareness regarding risk and liability, update current PI knowledge, improve clinical understanding and skills and when added modalities such as non-thermal laser therapy provide added benefit.  Dr. Tauber will lay out clear & succinct action plans to master PI case management for both practice & patient.
Don't miss this exciting opportunity to take your practice to the next level!

About Scott Tauber, DC, DABCO, CPC
Scott Tauber, D.C., D.A.B.C.O., C.P.C. is the COO of the American Institute of Personal Injury Physicians. He is a 1984 graduate of Life Chiropractic College and is both a Diplomate of the American Board of Chiropractic Orthopedics (DABCO) and a Certified Professional Coder (CPC). In addition to over 20 years of clinical practice, Dr. Tauber has served as a med-legal expert witness and has been an independent consultant for automobile insurance carriers and state regulatory agencies. He is a frequent guest speaker at professional and med-legal conferences, state association events and professional schools and has been published in state and national journals.

Seminar Details:

When:
March 20th, 2021

Times:
Registration at 9:30am
Saturday 10:00am-4:00pm

Where:
Your Home or Office



Seminar Cost:

  $57* (1/2 price until 1/31/21)

CE Hours:
6 Online CEs Applied through www.OnlineCE.com.

INSTRUCTIONS TO PURCHASE AN EVENT
1. To register, please visit www.chirocredit.com/erchonia
2. Check the box "select for purchase" for all courses you want to register for
3. Click on one of the recurring "submit to cart buttons" and follow onscreen prompts to login and complete your purchase
NOTE:  There is a link in the listing for an instruction sheet for taking the event. Please print a copy as it is a step by step pictorial with important instructions.
*CE state approvals based on online state CE requirements.  Click here to reference if your licensing state recognizes online CEs and how many.

Seminar Topics:
Traumatic Injuries, Personal Injury Risk and the Med-Legal Arena
Personal Injury and the med-legal environment
How PI patient care, management and documentation are different
Inherent provider risk and liability in Personal Injury cases
Current issues and considerations in the med-legal arena
Anticipating automobile insurance carrier scrutiny and issues
Initial Personal Injury History
Key elements of the initial Personal Injury patient history
Necessary PI history documentation components
How to address common "outside your scope" injuries
How to identify clinical "red flags" within the history
Common med-legal issues associated with the initial history
Personal Injury Physical Examination
Key elements of the initial Personal Injury patient examination
Physical examination procedures to identify acute traumatic injuries
Proper physical examination documentation
How to support care and treatment with objective documentation
How to identify commonly over-looked injuries and conditions
Low Level Laser Therapy and Personal Injury
Recovery time and uses of passive and active modalities
Introduction to the use of LLLT for traumatic injuries
How to identify injuries and conditions for LLLT treatment
Support and documentation of LLLT in the med-legal arena
Application of LLLT treatment procedures and protocols
Imaging, Testing and Humanizing Personal Injury Cases
The importance of diagnostic imaging in trauma cases
Appropriate diagnostic testing to support care and management
How to avoid missing common traumatic injuries using technology
The importance of humanizing acute traumatic injuries
Additional tools and methods available to humanize patient injuries
Personal Injury Case Management
Personal Injury case management basics
Current case management issues within the med-legal arena
Co-management and integrative care considerations
Overview of co-management options and clinical decision making
How to work with medical specialists on PI cases for improved outcomes
Last Updated on December 28, 2020 by Erchonia